When it comes to menopause, we likely think of the well known, often joked about symptoms, such as hot flashes, night sweats and mood swings, but did you know that menopause can actually affect your oral health? According to Delta Dental's recent survey, probably not.  A whopping 84% of women 50 and older were unaware of the menopause-oral health connection.1 
The survey also revealed that most women who are experiencing menopause are unaware that dental providers can help them address – and recommend treatments for – oral health related symptoms of menopause. 
How Does Menopause Affect Oral Health?
The menopause transition is categorized by a wild fluctuation of hormones which includes a dramatic decrease in the hormone estrogen. This hormone can affect the gums, saliva and overall health of the mouth.2  So, whether you're experiencing perimenopause, menopause or postmenopause, it's a good idea to keep an eye out for any symptoms, such as:
Dry mouth
Burning mouth syndrome (BMS)
Tooth sensitivity, pain or decay
Decreased jawbone density
Reduced saliva production
Bleeding, altered or irritated gums
Delta Dental has impressed me with their commitment to educating dental providers and patients to help make treatment plans more accessible for all people who experience menopause. Only 2% of women 50 and older report that they have discussed their menopause concerns with their dentist and only 1% of women 50 and older say they have discussed their concerns with their dental hygienist.
Recognizing that it may be uncomfortable or embarrassing to discuss such personal matters in an open dental bay, so Delta Dental has created an email template for you to customize and send to your provider. This way, your oral health care team can add the information to your medical history and be made aware of your changing needs. Open communication about the oral health-related symptoms you're experiencing and medications you're taking is important, and is critical to your overall health.3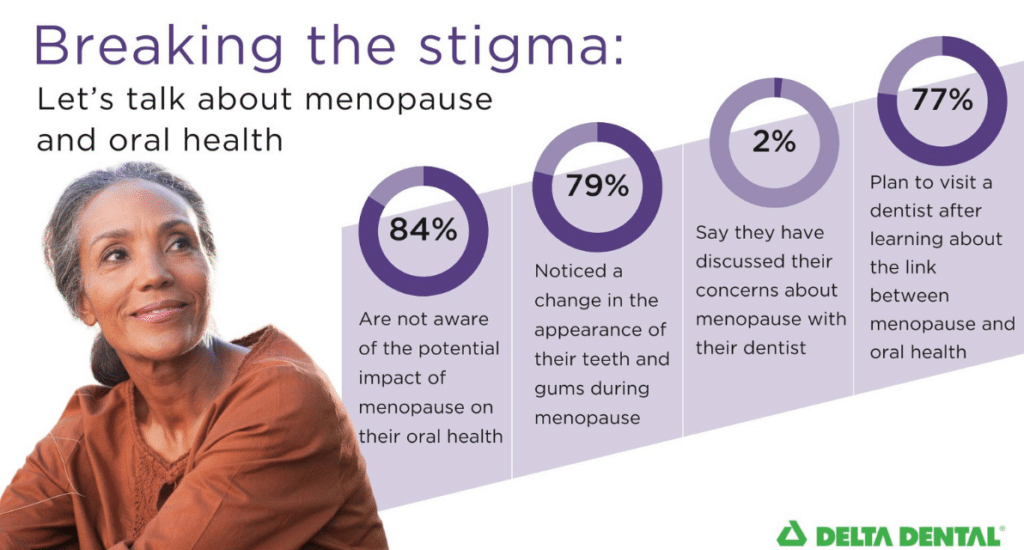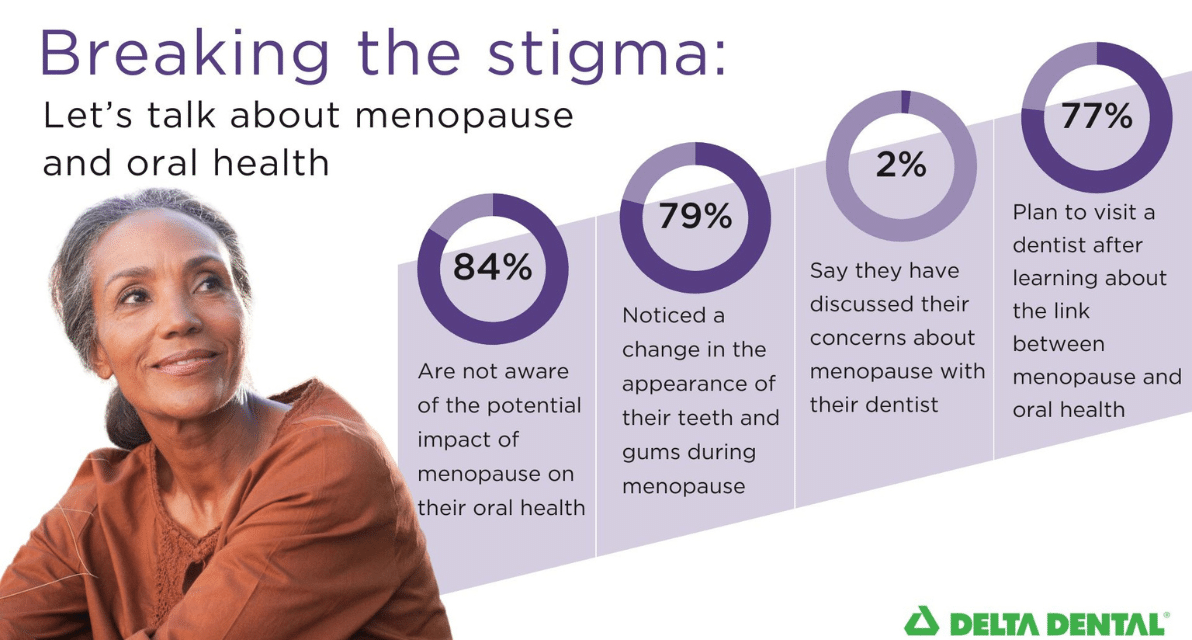 How To Keep A Healthy Smile Long After Menopause
Here's what you need to know about keeping your smile healthy long after menopause.4  
Step Up Your Oral Health Care Routine At Home
Practicing adequate oral hygiene is crucial.  Brush your teeth at least twice a day with fluoride toothpaste using proper technique, paying extra attention to the gum lines and hard-to-reach areas, and floss at least once daily.  In addition, use an antimicrobial mouth wash to reduce the accumulation of dental plaque and help prevent gum disease and tooth decay.
Keep Track Of Your Symptoms
Be aware of menopausal related symptoms and how they can affect your oral health. Watch out for the symptoms of dry mouth, note any change in the surface appearance of your tongue, or if it appears cracked or dry. If your lips are sticking to your teeth more often or your tongue is dry to the touch, you may be producing less saliva.  If you're unsure, your dental office can do saliva-flow testing to help determine your rate of saliva flow and the best treatment options. 
Stay Hydrated
Keeping saliva flowing and the proper pH balance in your mouth is important to oral health. Water or high pH bottled water is recommended over beverages such as juices or water flavored with lemons.  Water is the next best thing to saliva. Dr. Jessica Buehler, Senior Director of Dental Affairs at Delta Dental says "It's partially about hydration, but it's also about buffering the oral environment and keeping the pH of your mouth controlled."5 
Communicate With Your Dentist
Keeping a healthy mouth after menopause depends on clear communication about any symptoms you're having with your dentist. If you're experiencing any oral discomfort, sensitivity or other changes. Intervention can prevent issues from worsening, so consult your dentist as soon as possible. 
Maintain A Healthy Diet
An anti-inflammatory approach to nutrition such as The Galveston Diet, is rich in vitamins and minerals, particularly calcium, which can be found in dairy products and leafy green vegetables, and Vitamin D. Limit alcohol, caffeine, sugary snacks or beverages and overly salty foods.
Consider Hormone Therapy
Hormone therapy can help some women manage a host of menopausal and postmenopausal issues, including those related to oral health. Discuss hormone therapy and potential oral health implications with your physician. 
Manage Stress
High levels of stress can exacerbate oral health issues. Practice your favorite stress-reduction technique or pick up a new one, such as yoga or meditation, to benefit both your oral health and your overall well-being.
Maintaining good oral health is important at every age and stage of life, but those who experience menopause need to be aware of how menopause affects their oral health. Delta Dental is doing their part to spread awareness, get the conversation going and help women make the best decisions for their oral health.
To learn more about Delta Dental's initiative to Break the Stigma, read their recent Press Release or download Delta Dental's 2023 Senior Oral Health and Menopause Report: Breaking the Stigma.  To learn more about the connection between menopause and oral health, visit deltadentalins.com.
This is a paid partnership with Delta Dental.
Resources